Special Announcements
Thanksgiving "Community" Meal
We want to share our blessings!
Tuesday, November 25, 11:30 am - 4:00 pm
All Are Welcome!
Join us for Thanksgiving Morning Service
Thursday, November 27, 10:30 am - 11:30 am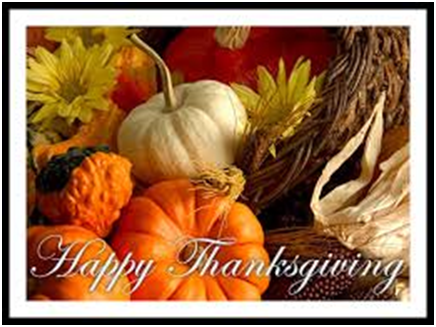 Within the next week, residents of the United States will stop as a nation for Thanksgiving Day. It is a day set aside to express our gratitude to God for his many blessings. At least that was the original intention. But, for many of us, Thanksgiving Day is filled with all types of activities that do not entail pausing to give thanks to God. Some of us will spend much of the day cooking and preparing to feast together with relatives and friends. Many Americans will start Thanksgiving Day with television watching, beginning with the Macy's Day Parade in New York City, followed by the many college and pro football games that will dominate the airwaves. When you add travel and gathering with relatives, Thanksgiving Day can become crowded with everything but actual thanksgiving. Sometimes all God gets from us on this day is a short prayer before doing a turkey dive.
Our Thanksgiving Day traditions are truly welcome. We too love turkey dinner with family and friend, along with sweet potatoes, greens, corn pudding, and hot biscuits with all the other fixings. However, before you dive, can we encourage you this Thanksgiving to do one thing differently. Would you take time for intentional, extended thanksgivings to God? He has been good to you and He deserves it. Besides, your soul and that of your family needs it too.
If you do not know what to say for extended Thanksgiving, read Psalm 107. It is a wonderful psalm of gratitude. It encourages us to be grateful with hearts of thanksgiving right from verse 1: "Give thanks to the LORD, for he is good! His faithful love endures forever." The rest of the psalm elaborates on God's goodness with specific examples that you may include in your prayer. For example, verses 4-7 depict the Lord as rescuing those who were lost, bringing them to a place of safety. Verse 8 sums up: "Let them praise the LORD for his great love and for the wonderful things he has done for them." This verse serves as a refrain throughout Psalm 107, as it is repeated three more times (107:15, 21, 31).
When we stop to consider God's love for us and how that love has been expressed in the wonderful things he has done for us, we will naturally offer thanks and praise to God. So, may we encourage you to begin your thanksgiving today? Think of God's love for you and his goodness in your life... go ahead, give thanks! Happy Thanksgiving to you from the New Canaan Worship Center family.
---
Thank you for visiting our website!
We are so glad you stopped by. Take a good look around because there is a lot to see. If you live in the south Richmond area, we hope you will join us for worship soon! It is our goal as a church to impact our community in a positive way for Jesus Christ through relevant teaching, sincere worship, lasting friendships, fervent prayer, and honest expressions of compassion through missions and outreach. If you are just starting your search for God or you are an individual who wants to grow spiritually, you will find a warm welcome here in "Canaan Land". It is truly a place to belong, a place to become, and a place to find hope!
---